Community Engagement
R. James Properties, Inc. works with a number of agencies to assist in the housing of newly arrived refugees in the US. Many of these people are fleeing areas of the world where their homes and communities have been destroyed by war. They come to the US to literally "start over," and they typically are independent and self-supporting within 90 days. We have found them to be excellent residents, and they eventually become excellent American citizens.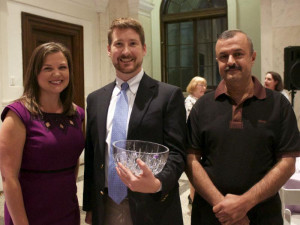 To facilitate the transition for refugees to life in the US, we cooperate with numerous non-profit organizations which provide English as a second language (ESL) classes, sewing classes, early learning, home economics training, transportation, and many other support services. Recently, our company was the recipient of the Heroes of Hope award from Lutheran Services of Georgia.
As a result of our involvement with this community, R. James Properties, Inc. has employed a number of former refugees in both management and maintenance positions. Currently we have employees who were originally from Syria, Iraq, Somalia, Nepal and other war-torn countries.
We currently are seeking assistance to develop several additional activities that are of interest to refugees. In particular, we have identified land which can be made available at no cost for a soccer field, but we need guidance and funding to build it, maintain it, and organize its use. In addition, we have identified a building which is available for conversion into a dance studio and event venue, but we are seeking guidance and funding to build out and run this facility.
If you have an interest in assisting in any of these efforts, please contact us.